The recent Limmud Miami 2016 drew more than 850 people at the Kovens Conference Center on Florida International University's Biscayne Bay Campus and received a positive reception.
This learning festival, which made its local debut two years ago, has been implemented in communities throughout the world. It featured a set of workshops and presentations with Jewish educators, performers and teachers from around the world. Its broad range of themes included arts & culture, spirituality, science, Torah, history, politics and educational programs that were tailored for all ages.
Federico Pallas, a co-chair for the event, said in an email: "We are more than happy of how the whole festival went!"
"People were happy about: the wide variety of selection of topics and sessions, which made it an event that has something for everyone and created a special sense of community, the quality of presenters, the diversity in general, the atmosphere created, the intergenerational presence, how everything was organized and smooth, the facility, the final concert, the 100 percent kosher food offer and the eating area, the opportunity to connect with people from different places and with different religious points of view and the predisposition of the volunteers," Pallas continued.
Among the many presenters at Limmud Miami 2016 was Aaron Davidson, a filmmaker and photographer based in Miami Beach who presented his short films on three landmarks on the South Florida kosher scene. These three films Davidson presented were: "Tradition at Steak," about the last stand-alone kosher butcher shop on Miami Beach; "Rascal House," made on the closing weekend of the popular local deli and "Abraham's Bakery," about the now closed-Miami Beach kosher bakery.
"It was an honor to show my films as part of this amazing program in so many ways," Davidson said. "I think I was probably one of the younger presenters and I was proud to be with so many distinguished presenters. I also liked how my films were part of a larger experience. Food is such an important part of Jewish tradition and culture and my films reflect that experience."
Davidson said that everyone at the session enjoyed the films because "they are so relatable on different levels."
"Many said the films brought back a lot of memories and transported them back in time," Davidson continued. "Some younger audience members wanted to go visit the bakery but were saddened to learn it was no longer in business. A highlight for me was one attendee who actually worked at Abraham's Bakery almost 25 years ago who was thrilled that it was documented just as she remembered."
Another presenter at the event was Leon Weissberg, former director of the March of the Living for the Southern Region and Miami-Dade County, who presented "The Islamification of Europe: Filling the Jewish Void in a Post-Holocaust Europe."
Weissberg said: "I think everyone was really receptive to the talk. Although we didn't have time to have dialogue, my sense was, by watching the peoples' faces, that everyone was very engaged in the conversation."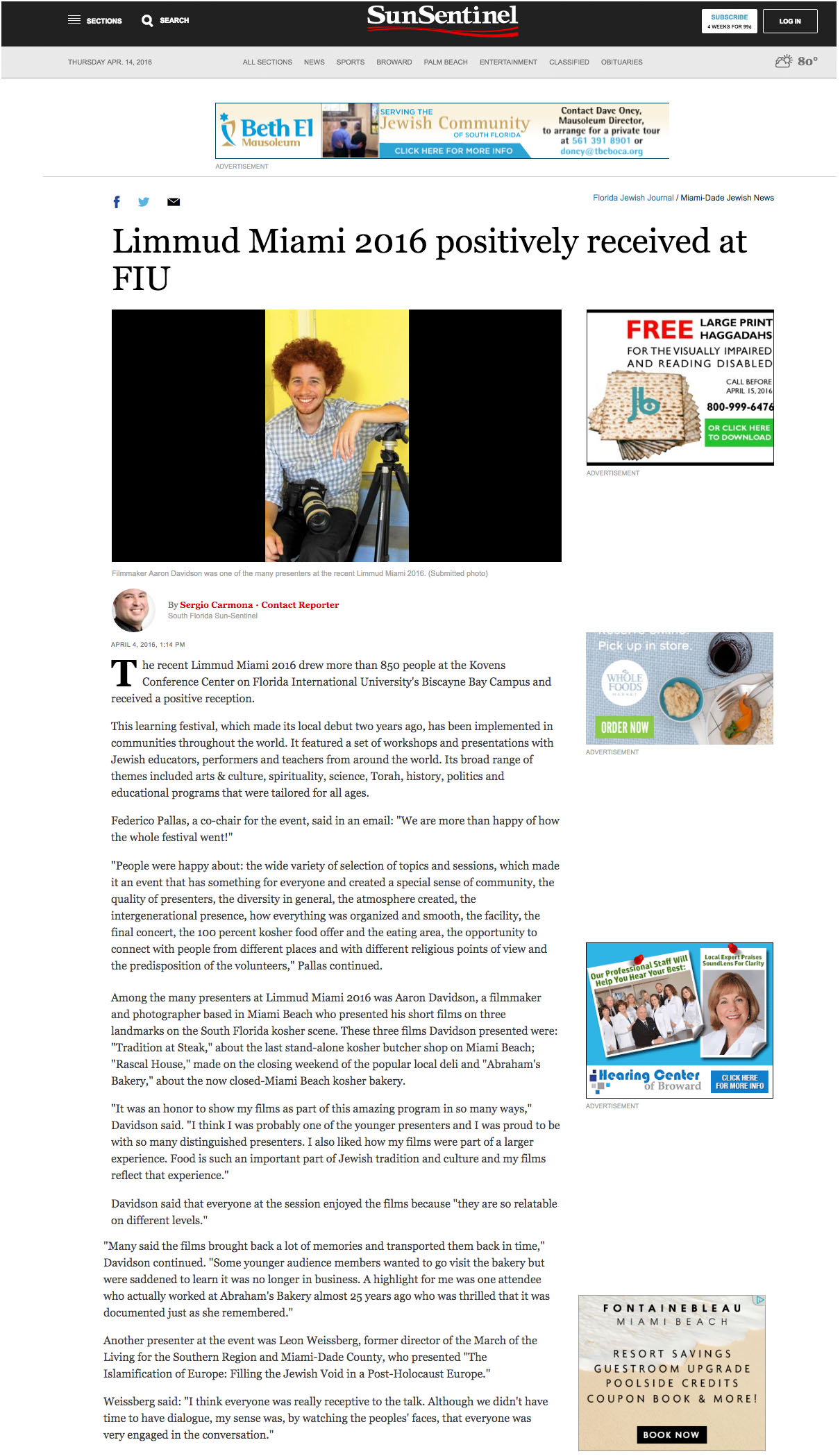 Aaron Davidson has been making films and taking photographs for over half his life. He is a photographer and videographer based in Miami Beach. In May 2015 he received his BAS degree in film, television and digital production from Miami Dade College. Working for Getty Images, one of the top photo agencies in the world, Aaron covers the music, fashion and arts and cultural scene in South Florida and around the country. His work is seen in print, online and television and has been featured in the New York Times, Rolling Stone Magazine, People Magazine, ESPN and other prominent media outlets. Aaron grew up on Miami Beach and began making films when he was 13 years old.His interest in Jewish topics was part of his inspiration to start making films. It seemed natural to make films of places he was familiar with, always accompanying his parents to the bakery, the butcher shop and to restaurants around Miami Beach. While Aaron's films have all been made in South Florida, they transcend their local flavor and are at once familiar and nostalgic. With the passage of time these films have become historical records or time capsules, documenting places that have since closed or changed and now live on only in film. A hallmark of Aaron's films is that he periodically updates them, often with poignant, ironic or unexpected results. Films made innocently in an earlier context, take on new meaning with contemporary footage.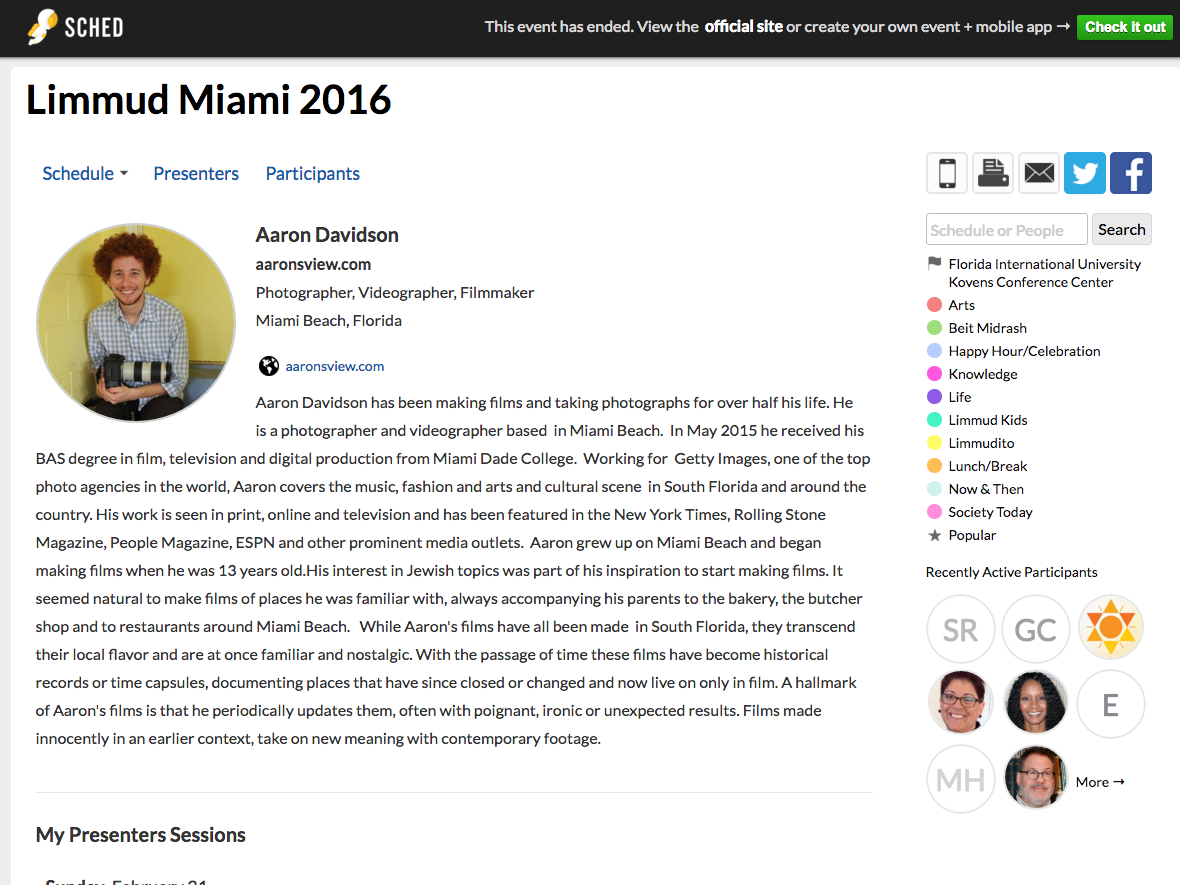 Every July Miami Beach is the backdrop to Swim Week which is one of the biggest fashion events in the world. This event features the latest styles and trends of swimwear by the top designers.
Tents, stages, and runways, are constructed on the beach. Thousands flock to this tropical paradise we call Miami Beach. The shows were featured at W South Beach, , The Edition, The Modrian, and the brand new 1 Hotel.
I've been covering Swim Week for the past 6 years and you never know who is going to show up. Over the years I've photographed such people as, Leann Rhymes, Dennis Rodman, and Scott Disick just to name a few.
My gig starts 2 hours before the show. The backstage area is crowded with hairstylist's, make up artist's, racks of swim wear and accessories, models, designers, and their entourage
I am hired by the designer. Aside from me there are half a dozen other photographers and videographers from different publications all over the world.
The models are put into make up with great details on their eyes, lips and nails. Next, onto the hair station, where their tresses are straightened, curled, braided, or teased.
When I'm assigned to shoot backstage I shoot all of this. I tell a story and show what's going on behind the scenes, step by step. My photos show, how a regular looking woman, is transformed into an elegant model.
When make up and hair is complete, the models go through a fitting trying on the assigned "looks" and getting final notes from the designer on how and when to walk.
After all the models are in their "looks", it's back to work. I'm running around the room trying to take as many different photos as I can of the models in their outfits before the stage manger calls for show time.
When the show begins I run around the runway trying to get different perspectives of the atmosphere of the show, as well as shooting the notables and good looking people in the front row. The show runs about 15-20 minutes and it always ends with the designer walking with the first model and waving to the cheering crowd.
Notables I shot this year were Brody Jenner and his girlfriend Kaitlynn Carter as well Jena Sims.
After the show I rush home, edit the pictures, and put them online. Over the next few days I saw that my photo's were picked up by US Weekly , Daily Mail, and Yahoo news.